DECEMBER 2023
BAPTIST TRAINING UNION (BTU) – Let's Study God's Word together! Bring the whole family. BTU will resume Sunday, January 21, 2024.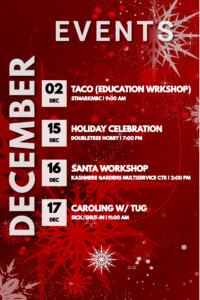 With the state of today's world, it would be easy to give up hope, but as the year draws to a close, the blessed Feast of Christ comes to remind us that Jesus came to this world to save sinners.
Regardless of the despondency and despair surrounding us, a beacon of love is shining — the Light of the Word — who invites us to leave the darkness behind, put our hope in Him and face the future with expectation and joy.
Advent should remind us time and again that, even if we suffer, Christ is still our hope for the future; as He has been for His children through the ages.
"Always be prepared to give an answer to everyone who ask you to give the reason for the hope that you have.
Lord Jesus of Bethlehem, thank You that you came to place hope in our hearts and our lives. Amen